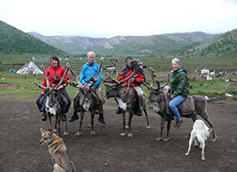 At the north end of the Darhat Valley the great Siberian Taiga forest begins. This is the homeland of the Tsaatan who still follow a traditional life living in tepees and herding their reindeer. They are a shamanist people descended from reindeer herders who crossed into Mongolia from Tuva; there are only around 30 families living in two groups in the forest and it will be your MOST remarkable cultural tour in your life!
ITINERARY
---
Day 1 – Arrive in Ulaanbaatar, the capital city of Mongolia. Overnight at hotel.
Day 2 – Fly to Murun capital city of Khovsgol province (1 hr 30 min), from Murun to "Nature's Door
camp" (122 km, 2 hr 30 min driving), eat dinner, overnight at tourist camp.
Days 3 & 4 – Drive to Tsagaan-nuur and spend the night in a tent.
Day 5 – Horse riding and visit Reindeer family, overnight next to the reindeer herders.
Day 6 – Stay one more day and see shaman dance 'Boo'.
Day 7 – Horse riding back to Tsagaan-nuur overnight in tent.
Day 8 – Drive to Ulaan–Uul overnight in tent 'Toom'.
Day 9 – Drive back to camp 'Nature's Door'.
Day 10 – Stay at the camp, enjoy Lake Khovsgol.
Day 11 – Drive to Muren, fly to UB, city tour, shopping for national souvenirs and cashmere. Farewell dinner at a Mongolian restaurant.
Day 12 – Departure.
SERVICES INCLUDED
---
Connector.

Accommodation & Food

2 nights in Hotel, 3 nights tourist camp, 7 nights in a tent or in a tourist camp. Food included (restaurants, expedition cook).

Connector.

Transportation

Domestic flights, as well as urban and local transportation.

Connector.

Additional Information

The weather in the Khovsgol area is around +11-20 degrees Celcius in June-July.
PRICE
---
Trip cost : $1800 per person
From 2 – 4 people : $1600 per person
4 and more people : $1300 per person
Please note that the tour does NOT include: International transportation, visas, travel & health insurance, beverages and personal expenses.